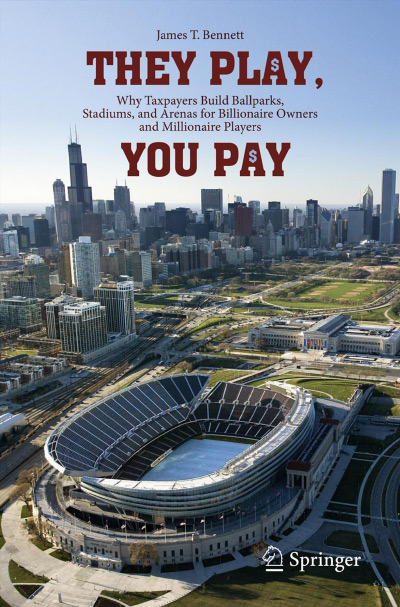 They Play, You Pay
Why Taxpayers Build Ballparks, Stadiums, and Arenas for Billionaire Owners and Millionaire Players
James T. Bennett
| | |
| --- | --- |
| Published: | New York: Springer, 2012 |
| Pages: | vii, 225 |
| Reviewed by: | Raymond D. Sauer; Clemson University |
Academic economists argue among themselves about almost any proposition, but on one issue there is remarkable agreement. In a recent survey of economists, the claim that "[l]ocal and state governments in the U.S should eliminate subsidies for professional sports franchises" received overwhelming support (Robert Whaples, "Do Economists Agree on Anything? Yes!" Economists' Voice 3, no. 9 [2006], p. 1). There is an equally remarkable lack of harmony between estimates of the economic benefits of professional sports produced by scholars and claims of economic impact produced by the industry's hired consultants. The scholarly literature is replete with dozens of studies that document only minute to modest impacts, at best, of locating a sports franchise in a city (see, for example, Dennis Coates and Brad Humphreys, "Do Economists Reach a Conclusion on Subsidies for Sports Franchises, Stadiums, and Mega-events?" Econ Journal Watch 5, no. 3 [2008]: 294–315). Yet team owners and their consultants, armed with formulaic claims of grandiose benefits, repeatedly succeed in tapping state and local treasuries for the purpose of stadium building. This is so even in the face of apparent majorities opposed to sports subsidies.
Owners of America's premier sports teams have successfully played the system in much the same way as owners of prime farmland, another puzzling feature in political economy. In They Play, You Pay, James T. Bennett provides an account of this recurring event. He serves up a steady stream of historical vignettes of franchiserelocation threats and public funding of sports stadiums, and he summarizes what he calls "enough empirical evidence to fill Yankee Stadium" (p. 169) on this issue. Bennett writes with a blend of wry humor, indignation, and ultimately resignation about this "welfare program" for the "billionaire owners" of North America's sports teams.
It's a large program, too. Bennett cites evidence that "governments contributed $10.34 billion to major league stadium and arena projects" between 1995 and 2009 alone (p. 164), a figure that has been replicated in several studies. But the political drama over stadium building has played out over the better part of the past century, dating to construction of the Los Angeles Coliseum in 1923. Bennett notes that the coliseum was the brainchild of Los Angeles's Community Development Association and was essentially a spec house for the Olympics. Los Angeles actually managed to land this prize, hosting the Olympic Games of 1932. Chicago's original investments in Soldier Field and Cleveland's in its Municipal Stadium were made with the same objective in mind, but these investments failed. Indeed, the Cleveland Indians abandoned Municipal Stadium less than two years after its opening in 1932 (with the exception of games played on Sundays and holidays) and didn't return until after World War II. Nevertheless, the die had been cast, and Municipal Stadium became a template for public involvement in sports over the next few decades.
Bennett's book is divided into four segments, the first of which describes the entry of American political figures into the world of sports. That politicians would exploit the spotlight provided them by spectator sports is not difficult to understand and dates at least to the emperors of Rome. Bennett's account begins by recapping President Teddy Roosevelt's role in addressing college football's injury crisis in 1907. This was an age of a relatively minimalist federal government, yet somehow the president was compelled to intervene in rule making for a boys' game. Roosevelt was "in frequent contact with Harvard football coach William Reed" (p. 8), who believed that Yale coach Walter Camp's rules committee was biased against Harvard. Oh the inhumanity! Out of these negotiations emerged the National Collegiate Athletic Association, for better or worse.
The political theater in American sport perhaps reached an absurd peak when the U.S. Senate held four days of hearings on the Federal Sports Act of 1972. Bennett provides a thorough account of this comical episode. The legislation proposed the creation of the Federal Sports Commission (FSC), an entity that would regulate the location of franchises, player compensation, and television broadcasts of the games. The FSC strikes me as one of the most boneheaded legislative ideas of all time. Nevertheless, each of these issues was hotly contested during this period. They are rooted in the monopoly structure of major North American sports, which limits the number of franchises, allows for joint selling of broadcast rights, and, particularly at this time, resulted in significant monopsonistic exploitation of players. Resolving these issues took many years and is still an ongoing process. Negotiations involved many parties—among the owners themselves and the players as well as ultimately between each of these groups; and there was combat between maverick owners and the collective interests of the league and not infrequent courtroom litigation. But federal legislation thankfully played only a bit part in the proceedings.
When it comes to stadium subsidies, the book's primary focus, fans of pure politics have more to cheer about because there has been a steady flow of legislation in this direction at the state and local level over the years. From a purely economic point of view, stadium subsidies are just like any other wealth transfer to an entity—for instance, an automobile-manufacturing facility over which political jurisdictions compete. Stadium subsidies, like corporate location incentives, are a recurring feature in our political system—an equilibrium phenomenon, if you will. Hence, Bennett's well-founded sense of inevitability regarding the process.
The book's main contribution is Bennett's lengthy account of the scores of stadium subsidy schemes that have been hatched and executed over the years. Relative to other recent books on this topic, They Play, You Play is more historical and less theoretical than Steven Ross and Stefan Szymanski's Fans of the World, Unite! A (Capitalist) Manifesto for Sports Consumers (Stanford, Calif.: Stanford University Press, 2009) and less prone to view government as the answer to these ills than Dave Zirin's 2010 polemic Bad Sports: How Owners Are Ruining the Games We Love (New York: Scribner Books; one senses that Zirin would have cheered the creation of the FSC). One dimension of stadium politics noted throughout Bennett's book—and missing elsewhere—is the use of eminent-domain proceedings to "steal land" (Bennett's phrase, used repeatedly) for stadium projects. Stadium building illustrates just how far the concept of public welfare has been stretched when it comes to legal interpretation of the Takings Clause.
Bennett serves up myriad detail on these deals, drawing on newspaper accounts from across the country, important books on the history of sport, and the academic journal literature canvassing a variety of disciplines, including culture, history, and politics in addition to economics. This is not economics done in the usual style. The coverage is more wide ranging and conversational, as if you were seated in a bar listening to a historian loaded with scores of facts and stories and compelled to get to the next one and the one after that before time is called.
I have two criticisms, admittedly more directed at style than substance. First, the discourse follows the arc of time, hopping from one deal and its cast of characters to the next, but although plenty of numbers are tossed into the narrative, there are no charts, tables of summary statistics, or regression models to help organize the data. The absence of these things might admittedly be a plus for some readers, but it contributes to a rather messy presentation of the topic, albeit rather like the process being described. Second, on occasion the writing style ventures too close to hyperbole. Congressman Jack Kemp is referred to as "a most voluble gasbag" (p. 21), Senator Jim Bunning as "a legendary grouch" (p. 29), and Glendale taxpayers in Arizona (the subsidy source for the National Hockey League's Coyotes) as "people who think Bobby Orr is a rowing machine" (p. 145). I didn't know these things before reading the book and don't believe they inform my understanding of the topic.
In the end, however, one's patience with this book is rewarded. The reader emerges from it having been presented with more facts and detail about more deals than can be gleaned from any other source. Indeed, the book can be thought of as something of a source of sources. Chapter 4 alone, "Parks and Stadiums since 1960," has 194 endnotes, most of them to articles and books outside the narrow economic literature and worthy of further investigation. They Play, You Pay is worth keeping on the shelf for that reason alone.
Raymond D. Sauer
Clemson University
---