The California Golden Fleece® Awards are a series of in-depth reports from the Independent Institute that expose waste, fraud, and abuse in California on the state or local level. To receive this ignoble designation, a program, agency, policy, tax, or regulation must violate common-sense principles of responsible government, be considered wasteful by people of varying political philosophies, and must be well documented. On occasion, the awards also spotlight a federal program that disproportionately harms Californians.
Submit a Candidate We encourage people—both inside and outside of government—to send us Fleece candidates. Public participation will help make the California Golden Fleece® Awards a more valuable resource for exposing government waste, increasing transparency, and holding government at all levels accountable when they swindle taxpayers or break the public trust.
California has some of the most protective whistle-blower and retaliation laws in the nation. Since the 1980s, the state's whistle-blower laws encourage employees to report unlawful acts in the workplace without fear of retaliation (Diego v. Pilgrim United Church of Christ (2014) 231 Cal.App.4th 913, 922). Protections extend to government employees who report violations of local, state, or federal law to outside bodies, including watchdog tip lines or websites such as ours. In February 2018, whistle-blower protections were also extended, for the first time, to legislative employees (Legislative Employee Whistleblower Protection Act).


Winner: Winter 2022
Bay Area Rapid Transit (BART) For operating a dangerous, dirty, unreliable, and financially reckless public transportation system in the San Francisco Bay Area, the Bay Area Rapid Transit (BART) system has received the twelfth California Golden Fleece® Award.


Learn more

News coverage

Show More (8) »
Winner: Winter 2019/20
California Housing Regulations For preventing housing development, which would alleviate sky-high housing prices and growing homelessness, California state and local politicians, government planners and regulators, and NIMBY activists have been named recipients of the ninth California Golden Fleece® Award.


Video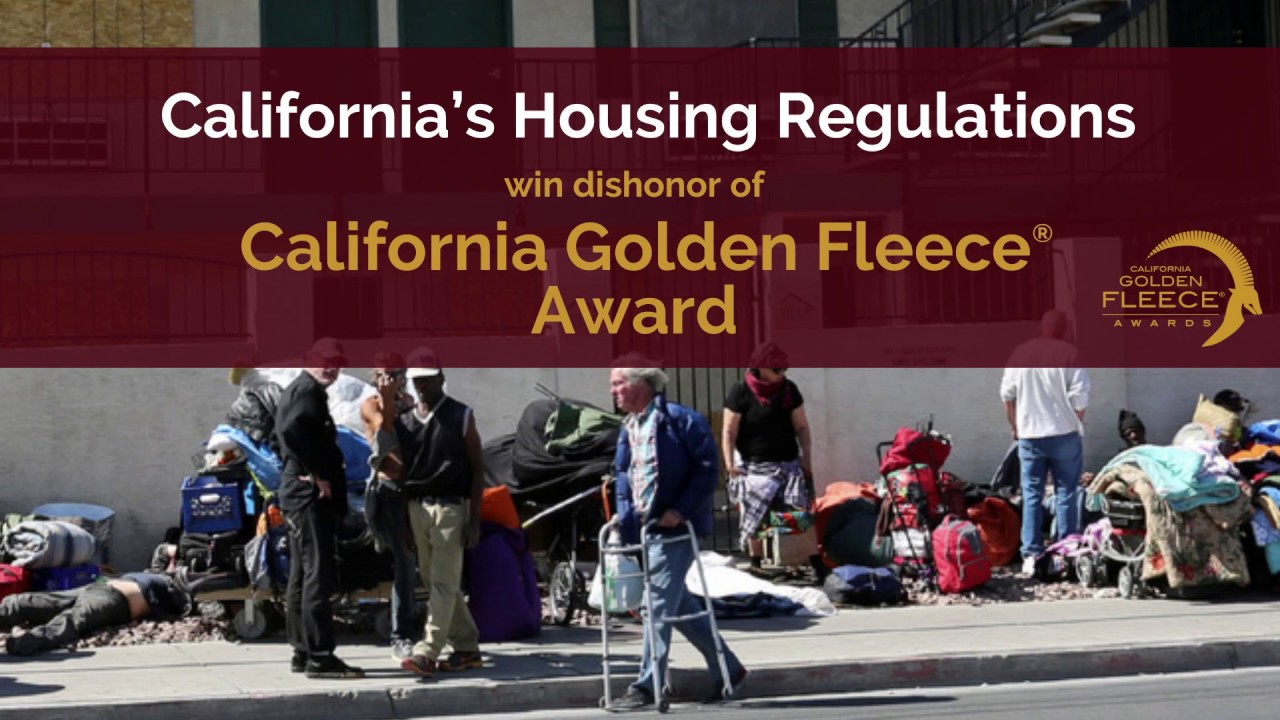 Learn more
News coverage
Show More (17) »
Winner: Summer 2018
Proposition 47 For unleashing a crime wave on property owners, California's Proposition 47 has been named the fifth recipient of the California Golden Fleece® Award. To secure justice and restore public confidence, lawmakers should enact stiffer penalties for property crimes, and law enforcement should prioritize "smash-and-grab" vehicle break-ins and retail shopliftings. 


Video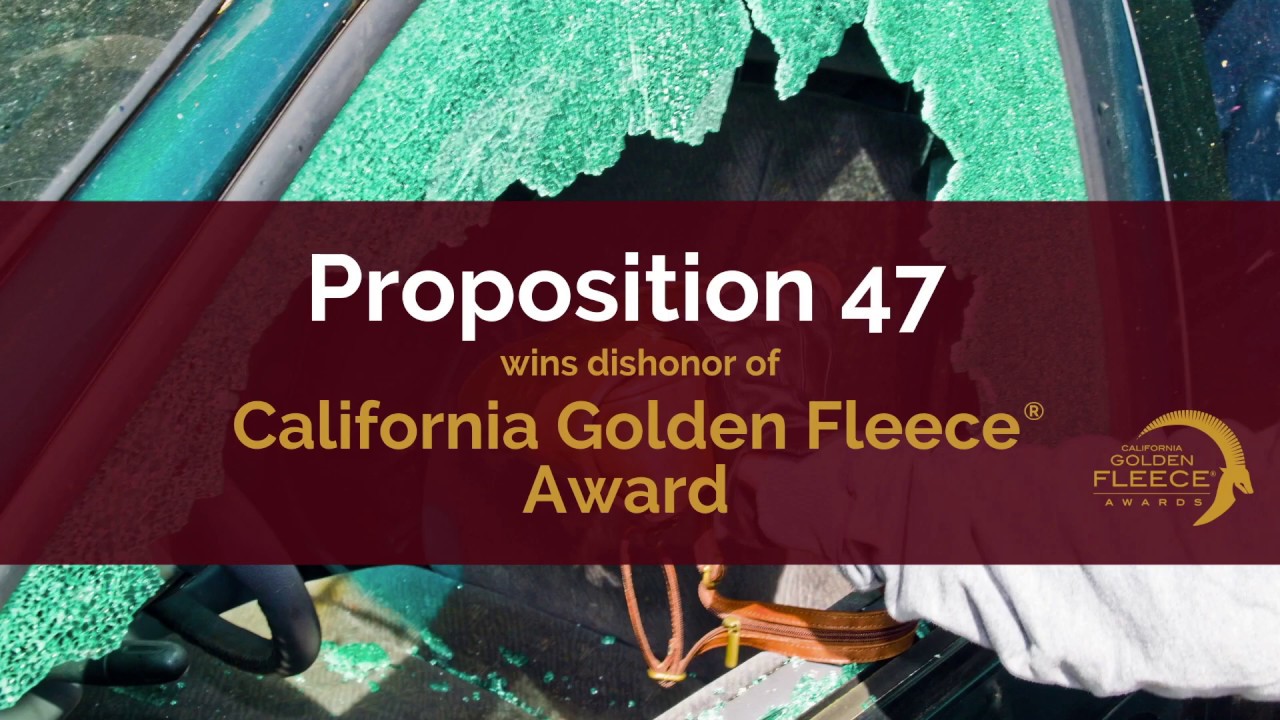 News coverage
Show More (5) »
Winner: Fall 2017
The California Department of Water Resources For its reckless mismanagement of Oroville Dam—which caused a near catastrophe in February 2017—California's Department of Water Resources (DWR) has been named the fourth recipient of the California Golden Fleece® Award. Ownership of DWR dams should be transferred to responsible private parties as part of a modernization of the state's outdated legacy water system.


Videos

Learn more

News coverage

Show More (4) »
Winner: Spring 2017
CAL FIRE The California Department of Forestry and Fire Protection—CAL FIRE—has won the third California Golden Fleece® Award due to poor handling of fire safety and costs, severe lack of accountability to taxpayers and landowners, and numerous scandals.


Learn more

News coverage
Winner: Summer 2016
The California Department of Transportation (Caltrans) The California Department of Transportation (Caltrans) has won the second California Golden Fleece® Award for its waste of taxpayer money, while at the same time demanding more funding. Caltrans should be drastically scaled back as part of broader reforms to modernize California's highways.


News coverage

Show More (13) »
Winner: Spring 2016
California's High-Speed Rail Authority The California High-Speed Rail Authority has won the first California Golden Fleece® Award for its lack of transparency and history of misleading the public about key details of the state's "bullet-train" project, which no longer reflect what voters approved in 2008.


News coverage

Show More (7) »
Events
| | | |
| --- | --- | --- |
| | | |
| Sr. Fellow Lawrence McQuillan, director of the California Golden Fleece® Awards to speak at Vistage Key Executive Leadership & CEO Network at Sonoma State University Dec. 16-17 | | Thu., Dec. 12, 2019 |
| "Taxpayer Toolkit: Is the DMV really fleecing Californians? featuring Lawrence McQuillan" Sr. Fellow Lawrence McQuillan, director of the California Golden Fleece® Awards speaks to the Silicon Valley Taxpayers Association in Santa Clara, CA | | Thu., Jun. 27, 2019 |
| Sr. Fellow Lawrence McQuillan, director of the California Golden Fleece Awards speaks at West Valley Republican Women Federated in San Jose, CA on Thursday, May 16 | | Fri., May. 17, 2019 |
| Senior Fellow Lawrence McQuillan speaks on the California Golden Fleece Award to the Piedmont Area Republican Women's Federation in Oakland, CA on March 13, 2019 | | Wed., Mar. 13, 2019 |
| "California is Getting Fleeced" Sr. Fellow Lawrence McQuillan, director of the California Golden Fleece Award speaks at the Piedmont Area Republican Women Federated in Piedmont, CA March 13, 2019 | | Wed., Mar. 13, 2019 |
| Sr. Fellow Lawrence McQuillan, creator of the California Golden Fleece Awards and author of California Dreaming speaks at the Sonoma Rotary Club, Sonoma, CA | | Wed., Sep. 26, 2018 |
| Senior Fellow Lawrence McQuillan, creator of the California Golden Fleece Awards presents at the Rossmoor Republican Club on Sept. 17, 2018 | | Mon., Sep. 17, 2018 |
| Sr. Fellow Lawrence McQuillan to speak at Rotary Club of Sonoma Valley about the California Golden Fleece Awards on November 2, 2016 | | Wed., Nov. 2, 2016 |
| Sr. Fellow Lawrence McQuillan, Founder and Director of the California Golden Fleece Awards to speak at the Sonoma County Taxpayers' Association in Santa Rosa, CA on Thursday, July 21 | | Thu., Jul. 21, 2016 |
| Sr. Fellow Lawrence McQuillan, Founder and Director of the California Golden Fleece Awards to speak at the Economic Roundtable of San Francisco on Wednesday, July 20 | | Wed., Jul. 20, 2016 |
| Sr. Fellow Lawrence McQuillan, author of California Dreaming to speak at the California Liberty Summit in Fresno, California | | Fri., May. 20, 2016 |