The California Department of Forestry and Fire Protection (CAL FIRE) has won the Independent Institute's California Golden Fleece Award, given out quarterly to state or local agencies or government projects that break the public trust, and even swindle taxpayers.
CAL FIRE—whose primary responsibilities are fire prevention, suppression, and safety in the 31 million acres of California land that are designated State Responsibility Areas (SRA)—favors expensive and inefficient fire management strategies that increase its budget but put people and property at greater fire risk. CAL FIRE also benefits from a controversial "fee" that was adopted by the California legislature in a manner that violated the California Constitution.
The agency has also been plagued with multiple scandals. And its inability (or desire, in some cases) to rein in these troubling problems does not inspire confidence.
CAL FIRE's poor handling of fire safety and costs, severe lack of accountability to taxpayers and landowners, and numerous scandals make it a hindrance to the state. Fixing these problems now requires divesting responsibilities from the agency and empowering private landowners.
---
---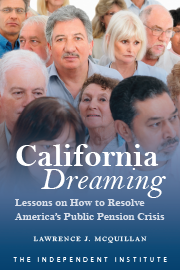 CALIFORNIA DREAMING: Lessons on How to Resolve America's Public Pension Crisis
In
California Dreaming
, Lawrence J. McQuillan pulls back the curtains covering this unfunded liability crisis. He describes the true extent of the problem, explains the critical factors that are driving public pension debt sky-high, and exposes the perverse incentives of lawmakers and pension officials that reward them for not fixing the problem and letting it escalate.
---