The Governmental Accounting Standards Board is implementing new rules that require governments, for the first time, to report unfunded pension liabilities on their 2015 balance sheets. This sticker shock should create new urgency for meaningful pension reform.
A recent study put the unfunded pension liability for all state and local governments at $4.7 trillion. For too long, pension fund officials and politicians have increased payouts and low-balled contributions. As a result, they now have insufficient funds to pay the promised benefits. Accounting gimmicks have hidden the true cost from the public, who are now on the hook to make up the difference between pension promises and assets.
Illinois and New York have unfunded pension debts north of $300 billion each, while New Jersey, Ohio and Texas exceed $200 billion apiece. But nowhere is the problem worse than in California, which accounts for $550 billion to $750 billion of the total, depending on the calculation.
---
---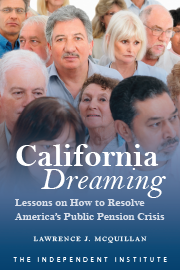 CALIFORNIA DREAMING: Lessons on How to Resolve America's Public Pension Crisis
In
California Dreaming
, Lawrence J. McQuillan pulls back the curtains covering this unfunded liability crisis. He describes the true extent of the problem, explains the critical factors that are driving public pension debt sky-high, and exposes the perverse incentives of lawmakers and pension officials that reward them for not fixing the problem and letting it escalate.
---