Former Vice President Al Gore stars in his second documentary, "An Inconvenient Sequel: Truth to Power."

"Sooner or later," Gore tweeted, "climate deniers in the GOP will have to confront their willful blindness to the climate crisis." But skeptics of climate alarmism have their eyes wide open and don't like what they see.
---
---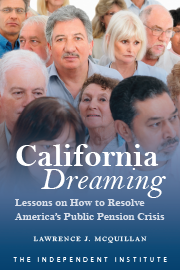 CALIFORNIA DREAMING: Lessons on How to Resolve America's Public Pension Crisis
In
California Dreaming
, Lawrence J. McQuillan pulls back the curtains covering this unfunded liability crisis. He describes the true extent of the problem, explains the critical factors that are driving public pension debt sky-high, and exposes the perverse incentives of lawmakers and pension officials that reward them for not fixing the problem and letting it escalate.
---