On Sep. 18, Sen. Kirsten Gillibrand (D-N.Y.) condemned America's lack of mandatory paid leave for women. "Pakistan and Afghanistan [which] don't even educate their girls have more paid leave than America," she declared. In both those "progressive" nations, female employees are entitled to 12 weeks of paid maternity leave at 100 percent wages; at least, they are entitled to it "on paper." In America, the Family and Medical Leave Act of 1993 provides 12 weeks of unpaid family leave to workers at businesses with 50 or more employees. A few states have adopted mandatory paid leave policies.
Gillibrand is the Senate's main cheerleader for the Family and Medical Insurance Leave Act (FAMILY Act). Both the Senate bill (S. 1810) and the identical House one (H.R. 3712) were introduced on Dec. 12, 2013. Both were referred to committee, where they remain.
---
---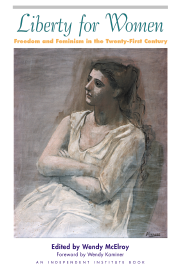 LIBERTY FOR WOMEN: Freedom and Feminism in the Twenty-First Century
With its vision of individualist feminism,
Liberty for Women
boldly explores a wide range of issues that confront the modern woman, including self-defense, economic well-being and employment, sex and abortion, the family, technology, and much more.
---