Two strategies before Congress seek to ratify a constitutional amendment that was introduced in 1923. The core of the Equal Rights Amendment (ERA) lies in its statement, "Equality of rights under the law shall not be denied or abridged by the United States or by any State on account of sex." The ERA has stumbled for decades. One reason: depending on how "equal rights" are defined, the amendment becomes controversial. It has come to include demands for class entitlements or legal privileges rather than a focus upon protecting traditional and individual rights. For example, the ERA is increasingly construed as mandating greater "pay equity."
---
---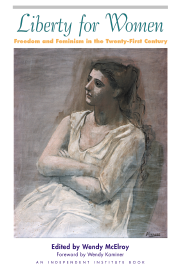 LIBERTY FOR WOMEN: Freedom and Feminism in the Twenty-First Century
With its vision of individualist feminism,
Liberty for Women
boldly explores a wide range of issues that confront the modern woman, including self-defense, economic well-being and employment, sex and abortion, the family, technology, and much more.
---