The "deep state" is commonly defined as "a body of people, typically influential members of government agencies or the military, believed to be involved in the secret manipulation or control of government policy." The grassroots is commonly defined as an organization in which ordinary people are the main body of membership. Throughout America, the deep state and the grassroots are in conflict. The current push to reauthorize the Violence Against Women Act (VAWA) illustrates the standard deep state tactic of blocking grassroots voices from hearings and the other preliminaries that define law. The tactic also omits the grassroots concerns, such as due process for those accused of sexual violence.
On March 20, the Senate Judiciary Committee held a hearing on reauthorizing VAWA, which expires in September; the act must be reauthorized every five years. Given the lovefest tone of the meeting, VAWA will be renewed. Another indication of renewal was the list of non-Congressional speakers invited to address the Committee. They included: Amanda Nguyen, the main force behind the 2016 Bill of Rights for Victims of Sexual Assault; Tracy Prior, chief of the Family Protection Division of the San Diego County, California and a prosecutor for 20 years; and, Katharine Sullivan, a principal deputy director for the Office on Violence Against Women of the Department of Justice. All strongly advocate VAWA. They are veterans at lobbying legislatures.
---
---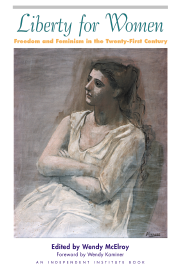 LIBERTY FOR WOMEN: Freedom and Feminism in the Twenty-First Century
With its vision of individualist feminism,
Liberty for Women
boldly explores a wide range of issues that confront the modern woman, including self-defense, economic well-being and employment, sex and abortion, the family, technology, and much more.
---