On Palm Sunday and World Youth Day, Pope Francis told youth "not to keep quiet even if others keep quiet." Young people should take his advice and speak out against Pope Francis's economic agenda.
In his apostolic exhortation Evangelii gaudium ("The Joy of the Gospel"), Pope Francis said, "Young people call us to renewed and expansive hope, for they represent new directions for humanity and open us up to the future, lest we cling to a nostalgia for structures and customs which are no longer life-giving in today's world."
Those young people should note that Pope Francis clings to outdated structures and customs. He continues to push the high tax, government wealth-redistribution model that undermines market capitalism, which entrepreneurs, young and old, need to thrive.
---
---
Hayeon Carol Park is a senior policy analyst at the Maryland Public Policy Institute in Rockville, Maryland.
---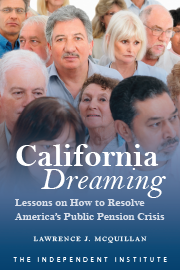 CALIFORNIA DREAMING: Lessons on How to Resolve America's Public Pension Crisis
In
California Dreaming
, Lawrence J. McQuillan pulls back the curtains covering this unfunded liability crisis. He describes the true extent of the problem, explains the critical factors that are driving public pension debt sky-high, and exposes the perverse incentives of lawmakers and pension officials that reward them for not fixing the problem and letting it escalate.
---