Pope Francis has earned a reputation as a man of the people, making his mission to advocate for the poor, the downtrodden and the persecuted, particularly those of Christian faith. The Vatican's reported deal with China, to effectively abdicate the power of the pope to select bishops to the communist state, has therefore been met with feelings of shock and even betrayal among the faithful, especially those in China itself.
The new deal, which has been in the works for more than a year, isn't merely one of symbolic importance. Despite stringent restrictions on religious expression—and frequent crackdowns on those deemed to have stepped outside the lines drawn by the government—China is home to an estimated 70 million or so Christians, including about 12 million Catholics.
---
---
---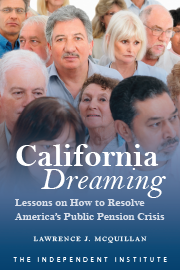 CALIFORNIA DREAMING: Lessons on How to Resolve America's Public Pension Crisis
In
California Dreaming
, Lawrence J. McQuillan pulls back the curtains covering this unfunded liability crisis. He describes the true extent of the problem, explains the critical factors that are driving public pension debt sky-high, and exposes the perverse incentives of lawmakers and pension officials that reward them for not fixing the problem and letting it escalate.
---