The United States ranks 11th in economic freedom, according to the 2017 "Economic Freedom of the World Report" published by Canada's Fraser Institute. The research provides important lessons about "economic nationalism," which has reemerged as a populist force both in the U.S. and elsewhere around the world.
Hong Kong and Singapore are once again the most economically free, followed by New Zealand, Switzerland, Ireland, the United Kingdom, Mauritius, Georgia, Australia, and Estonia. The U.S. tied with Canada.
---
---
Lauren Tcheau is a Policy Researcher at the Independent Institute
---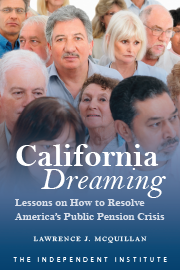 CALIFORNIA DREAMING: Lessons on How to Resolve America's Public Pension Crisis
In
California Dreaming
, Lawrence J. McQuillan pulls back the curtains covering this unfunded liability crisis. He describes the true extent of the problem, explains the critical factors that are driving public pension debt sky-high, and exposes the perverse incentives of lawmakers and pension officials that reward them for not fixing the problem and letting it escalate.
---