The benefits of Alaskan oil production have been reported so often and so fully over the past 40 years to suppose that the supporters of opening a limited area of the Arctic National Wildlife Refuge (ANWR) to energy development can snap their laptops shut and declare the controversial case closed.
Not so fast.
Based on funding earmarked for oil and gas development on federal lands in its proposed 2018 budget, the Interior Department has given a green light to exploratory seismic studies of ANWR's coastal plain, the necessary first step in the leasing process and the only way of determining how much oil lies beneath the surface. But seismic testing can't begin without congressional approval.
What's at stake?
---
---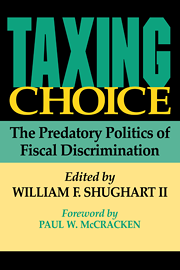 TAXING CHOICE: The Predatory Politics of Fiscal Discrimination
So-called "sin taxes"—the taxing of certain products, like alcohol and tobacco, that are deemed to be "politically incorrect"—have long been a favorite way for politicians to fund programs benefiting special interest groups. But this concept has been applied to such "sinful" products as soft drinks, margarine, telephone calls, airline tickets, and even fishing gear. What is the true record of this selective, often punitive, approach to taxation?
---