Almost everyone in America will suffer from jet lag during election week—and they won't even have to be in travel mode. Except for those fortunate enough to live in Arizona and Hawaii, the hour of daylight "saved" on Sunday, March 9, will be withdrawn at 2:00 a.m. Sunday, Nov. 2, as clocks revert to standard time for the next four months.
---
---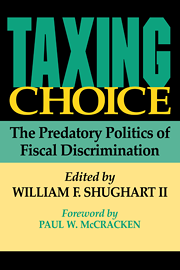 TAXING CHOICE: The Predatory Politics of Fiscal Discrimination
So-called "sin taxes"—the taxing of certain products, like alcohol and tobacco, that are deemed to be "politically incorrect"—have long been a favorite way for politicians to fund programs benefiting special interest groups. But this concept has been applied to such "sinful" products as soft drinks, margarine, telephone calls, airline tickets, and even fishing gear. What is the true record of this selective, often punitive, approach to taxation?
---