The Obama administration's announcement of regulations requiring every state to craft plans targeting major reductions in emissions from coal-fired power plants has been greeted as a major victory for wind, solar, biomass and other zero-carbon energy sources. As proof of his leadership on the environment and his desire to bequeath action on global warming to future generations, Obama very much wants to present his Clean Power Plan (CPP) as a fait accompli to the international community at a December meeting in Paris.
Nuclear power is not even mentioned, although the plan does provide that states where nuclear plants now are under construction can claim credits toward reducing carbon emissions by 32 percent by 2030 (from 2005 levels) before bringing the plants online.
The major problem, though, is that the CPP does nothing to change current policies regarding storing and reprocessing spent nuclear fuel.
---
---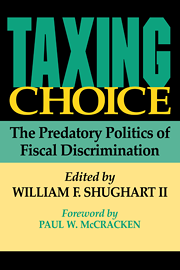 TAXING CHOICE: The Predatory Politics of Fiscal Discrimination
So-called "sin taxes"—the taxing of certain products, like alcohol and tobacco, that are deemed to be "politically incorrect"—have long been a favorite way for politicians to fund programs benefiting special interest groups. But this concept has been applied to such "sinful" products as soft drinks, margarine, telephone calls, airline tickets, and even fishing gear. What is the true record of this selective, often punitive, approach to taxation?
---