Everyone knows Washington loves to study an issue to death and a lengthy study period can be fully justified when venturing into unknown territory. While it is important Congress not rush blindly into new policies, being too cautious can risk letting a golden opportunity slip through one's fingers. For example, take the debate over ending the policy banning exports of U.S. crude oil which has been center stage on Capitol Hill recently.
Multiple congressional hearings have been held on the topic, including one to be held this week in the Senate Committee on Energy and Natural Resources, which will feature testimony on the bipartisan bill introduced by Sens. Lisa Murkowski, R-Alaska, and Heidi Heitkamp, D-N.D., to eliminate the crude export ban.
Along with committee hearings, respected think tanks and policy research organizations have also carefully examined the consequences of repeal. Last week, we released a report summarizing this extensive research effort. Our report, titled "The Economic Case for Lifting the Crude Oil Exports Ban," examines five recent macroeconomic studies evaluating the significant domestic and international implications of ending this outdated policy.
---
---
Margo Thorning Ph.D is Senior Vice President and Chief Economist at the American Council for Capital Formation.
---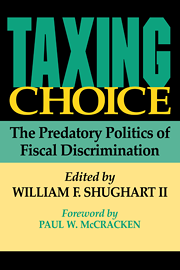 TAXING CHOICE: The Predatory Politics of Fiscal Discrimination
So-called "sin taxes"—the taxing of certain products, like alcohol and tobacco, that are deemed to be "politically incorrect"—have long been a favorite way for politicians to fund programs benefiting special interest groups. But this concept has been applied to such "sinful" products as soft drinks, margarine, telephone calls, airline tickets, and even fishing gear. What is the true record of this selective, often punitive, approach to taxation?
---