The Campus Accountability and Safety Act (CASA), S. 2692, seeks to change how publicly funded universities investigate allegations of sexual assault. CASA and its House version, H.R. 5354, are currently in front of congressional committees. S. 2692 in particular has been widely hailed as a rare display of bipartisan support. Why, then, does the congressional watchdog GovTrack.us give CASA only a 1 percent chance of being enacted?
The act contains some alarming provisions.
---
---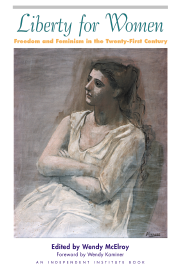 LIBERTY FOR WOMEN: Freedom and Feminism in the Twenty-First Century
With its vision of individualist feminism,
Liberty for Women
boldly explores a wide range of issues that confront the modern woman, including self-defense, economic well-being and employment, sex and abortion, the family, technology, and much more.
---