Should deliberately false reports of sexual assault be subject to the same legal penalties as false reports of other felonies? Right now, accusers who lie about sexual abuse are criminally liable for filing a false report and perjury, as well as civil sanctions for defamation, but legal consequences rarely occur.
The question was spotlighted by the accusations surrounding Supreme Court Judge Brett Kavanaugh. It was clear during Kavanaugh's confirmation hearing: An accusation of sexual assault can devastate a man's life, family and future. Those who reject the account of his main accuser, Christine Blasey Ford, don't suggest bringing legal proceedings against her. A sincere report of sexual abuse should not be penalized for being confused or mistaken.
Jeffrey Catalan and Julie Swetnick are different stories; in the wake of Ford's accusations, Catalan and Swetnick claimed to have witnessed sexual abuse by Kavanaugh; Catalan quickly recanted. But the chairman of the Senate Committee that presided over Kavanaugh's hearing has asked for an official review of the claim as a possible crime. In a NBC interview Swetnick contradicted a sworn statement to the Committee, which had implicated Kavanaugh in gang rapes. Harvard law professor emeritus Alan Dershowitz has called for Swetnick to be investigated and then prosecuted for perjury, if appropriate.
The debate on how to handle blatantly false accusations of sexual abuse has re-opened. Feminists argue that punishing any accuser chills the willingness of victims to come forward. Rule-of-law advocates counter that false accusations are not victimless crimes. In most cases a real person is named as an attacker and he or she confronts severe consequences. Genuine victims are also damaged by false allegations. Every lie casts a shadow of doubt over every future report of sexual assault. So legal disincentives should attach to the act of lying not merely to protect those falsely accused but also to encourage real victims to make reports.
---
---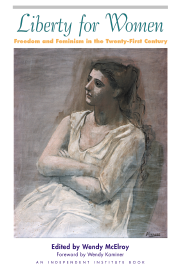 LIBERTY FOR WOMEN: Freedom and Feminism in the Twenty-First Century
With its vision of individualist feminism,
Liberty for Women
boldly explores a wide range of issues that confront the modern woman, including self-defense, economic well-being and employment, sex and abortion, the family, technology, and much more.
---