An Aug. 29 New York Times headline, "New U.S. Sexual Misconduct Rules Bolster Rights of Accused and Protect Colleges," foreshadows a controversy that is headed to Congress, probably after the midterms. A draft of proposed changes to Title IX policy leaked from the Department of Education (DOE) to the NYT, which described the draft as narrowing "the definition of sexual harassment, holding schools accountable only for formal complaints filed through proper authorities and for conduct said to have occurred on their campuses. They would also establish a higher legal standard to determine whether schools improperly addressed complaints."
The final language of the changes may differ upon release in a few weeks, but the thrust is to stiffen legal protections for an accused through more rigorous due process and to provide relief to lawsuit-prone schools that now function as police, judge and jury in assault investigations.
DOE Secretary Betsy DeVos has promised to "correct" Obama-era campus policies, and the proposal constitutes her first comprehensive overhaul. The old policies instituted strict procedures on how schools must hold campus misconduct hearings, including lowering the legal protections for an accused; there was no right to cross-examine an accuser or witnesses, for example. DeVos referred to those policies as "federal overreach" that established quasi-judicial systems without judicial protections. Non-compliant schools were threatened with the possibility of withholding federal funds. Compliant schools were vulnerable to lawsuits from those who were found "guilty."
The DeVos DOE wants to move back toward the 1972 law, with a comparatively limited definition of "sexual harassment." The Obama DOE defined it as "unwelcome sexual advances, requests for sexual favors, and other verbal, nonverbal, or physical conduct of a sexual nature." In short, a hostile environment. DeVos prefers the reigning Supreme Court definition of "unwelcome conduct on the basis of sex that is so severe, pervasive and objectively offensive that it denies a person access to the school's education program or activity." That is quite a difference.
---
---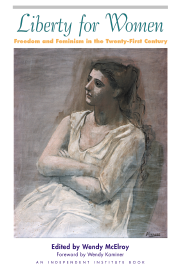 LIBERTY FOR WOMEN: Freedom and Feminism in the Twenty-First Century
With its vision of individualist feminism,
Liberty for Women
boldly explores a wide range of issues that confront the modern woman, including self-defense, economic well-being and employment, sex and abortion, the family, technology, and much more.
---